About Us at Joseph Jenkins Inc.
Address: 143 Forest Lane, Grove City, PA 16127 USA
Phone: 814-786-9085 or 814-786-7429
Fax: 814-786-8209
Open: M-F, 9-5, Eastern Time
---
Our titles include:
Slate Roofs 1926
Available in our store.
---
Slate Roof Bible, 3rd Edition
Available in our store or on Amazon.
---
The Humanure Handbook, 4th Edition
Available in our store or on Amazon.
---
The Balance Point
Available in our store, on Amazon, on Kindle, and on Smashwords.
---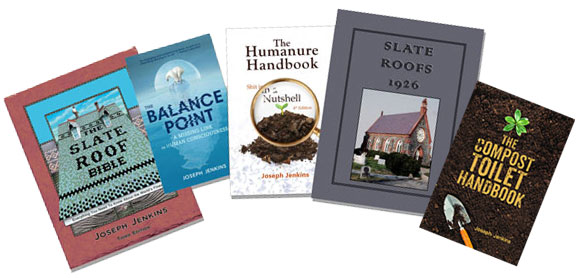 ---
Ecommerce:
We offer slate and traditional roofing tools and supplies.
We have the largest selection of snow guards, snow rails, and roof snow retention products on the internet!
Solder bars, solder wire, soldering devices, flux.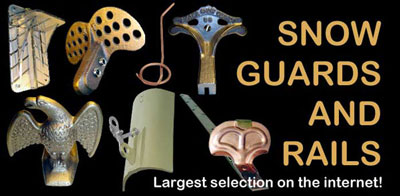 ---
Consulting Services:
Nationwide consulting services on slate roofs only, including litigation support services, insurance examinations, site visits, roof evaluations, conditions reports, and anything to do with slate roofs.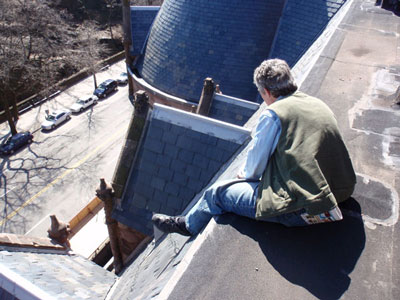 ---
International consulting services helping people to implement compost toilet systems in households, schools, villages, orphanages, and any venue where people need ecological sanitation.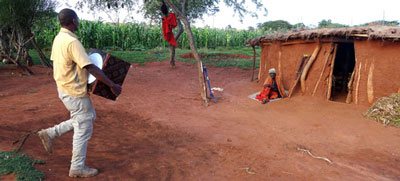 ---
Additional Websites:
---
How to Find Us:
We're located in western Pennsylvania about 29 miles east of the Ohio border (about 10 miles east of the intersection of I-80 and I-79), three minutes off Interstate 80 at exit 29 (Barkeyville, Route 8). Take Route 8 north at exit 29 about 1/2 mile to the first left turn (Gilmore Road), turn left onto Gilmore and go about one mile to the first left turn (Old Beech Road). Turn left onto Old Beech and then go about 1/4 mile to the 3rd driveway on the right (Forest Lane). Turn right onto Forest Lane and you'll find us at the top of the hill.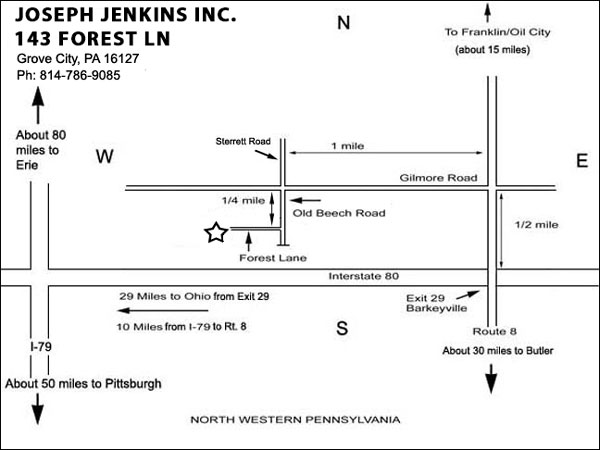 View Joseph Jenkins, Inc. in a larger map.
---